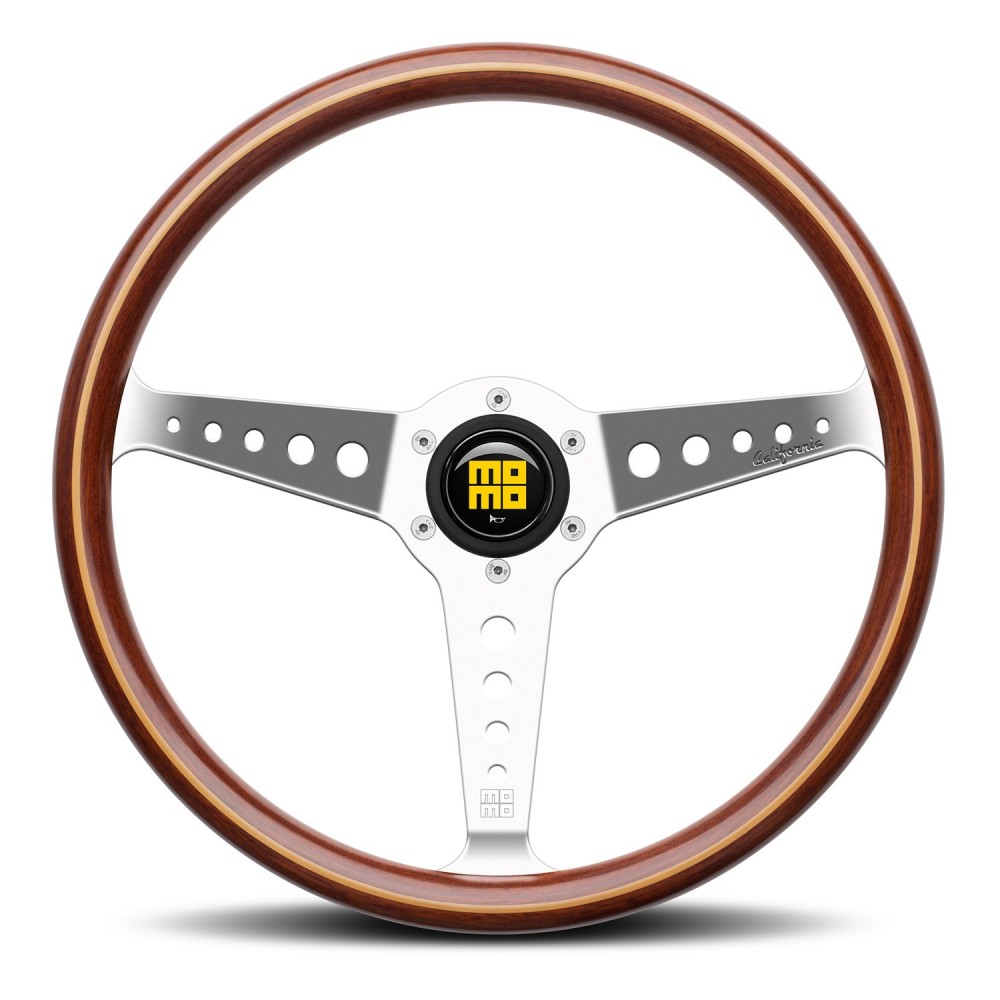 Backorder Required
Oops, we are unable to supply you with the quantity you have ordered. However, we can back order more for you.
This could take up to 5 - 6 weeks and we will ship them out to you the moment they arrive.
Please select from the 3 options below:

Yes, add to cart and backorder

Only add available stock ()

No, do not add to cart
Not Enough Stock
Unfortunately we don't have enough stock to cover that full quantity, but do have some stock available.
Would you like to add all available quantity to your cart?

Yes, add available stock to cart ()

No, do not add to cart
HERITAGE CALIFORNIA Wood 360
Model: VCALIFWOOD36
$499.00
Item in Stock
Description
With over 50 years of experience producing performance accessories, MOMO goes back to its roots with the Heritage Line. With retro-inspired designs and exceptional quality, the Heritage Line connects MOMO's past with today's innovations to produce a state-of-the-art product for your classic sports car. MOMO's California Heritage Wood is a classic-look wheel made with a combination of the finest modern materials giving it the perfect blend between old and new. The California Wood features a timeless three-spoke shape, with polished chrome aluminium spokes and a high-quality mahogany wood rim in a gloss finish with a contrasting circular section and finger grooves built into the back of the wheel for an irresistible and ergonomic grip. The polished chrome spokes are embossed with the MOMO stacked logo and 'California' insignia which complement the MOMO Heritage glossy horn button. Smooth and polished, the California Wood boasts state-of-the-art finish quality, guaranteed by the extraordinary craftsmanship of MOMO's artisans, who have been manually treating wood with exceptional skill for decades. The circular contrasting silk screen is perfectly framed in the diameter of the mahogany wood rim and combines with the perfectly pressed holes in the spokes to create a harmony of concentric circles. The California Heritage Wood features a larger and thinner rim for the ultimate retro feel and is the ultimate choice for those wishing to retain the character of their vehicle whilst refreshing the interior. Like all MOMO steering wheels, the MOMO California Heritage Wood is made in Italy from the highest quality materials. An aftermarket hub is required for installation, contact FUEL AUTOTEK to learn more about MOMO's range of hub kits.
Included Parts:
MOMO Steering Wheel, MOMO Horn Button (Round Lip) and MOMO Earthing Cable

*Please note: This steering wheel is not supplied with a horn button retaining ring and/or screws for installation. If you do not already have these parts, a MOMO Horn Button Retaining Ring and MOMO Fixing Screw Set can be purchased separately.
MOMO is leading the way in quality aftermarket steering wheels. From our Motorsport range with flat bottom steering wheels to the leather and mahogany 3 spoke classic range. Since 1964, MOMO has delivered the highest standard in consumer and racing products. MOMO use quality grade sourced materials from around the world. From the finest leathers used for the Shift Knob range, to the latest high tech fireproof nomex materials used in underwear and race suits.
Details
Technical Specification
Colour
Wood
Materials
Mahogany Wood
Spoke Finish
Chrome
Horn
Glossy Black MOMO stacked
Diameter
360mm
Dish
34mm
Grip Thickness
24x28mm
Reviews
Phillip Hoare 19th November, 2019
5
Great product and exceptional service with quick delivery. Highly recommended!
Douglas John 29th November, 2018
5
The MOMO Heritage California Wood 360 is a work of art. I'm tempted to buy a second, frame it and display it in my study. It has enhanced my vehicle tremendously. The quality of the wheel is matched by the quality of the service that I received from the staff at Fuel Autotek. A well earned five stars.
DAVID JOHNS 26th November, 2018
5
Absolutely beautiful steering wheel. A work of art!
Show more reviews
Have you got a question about this product?